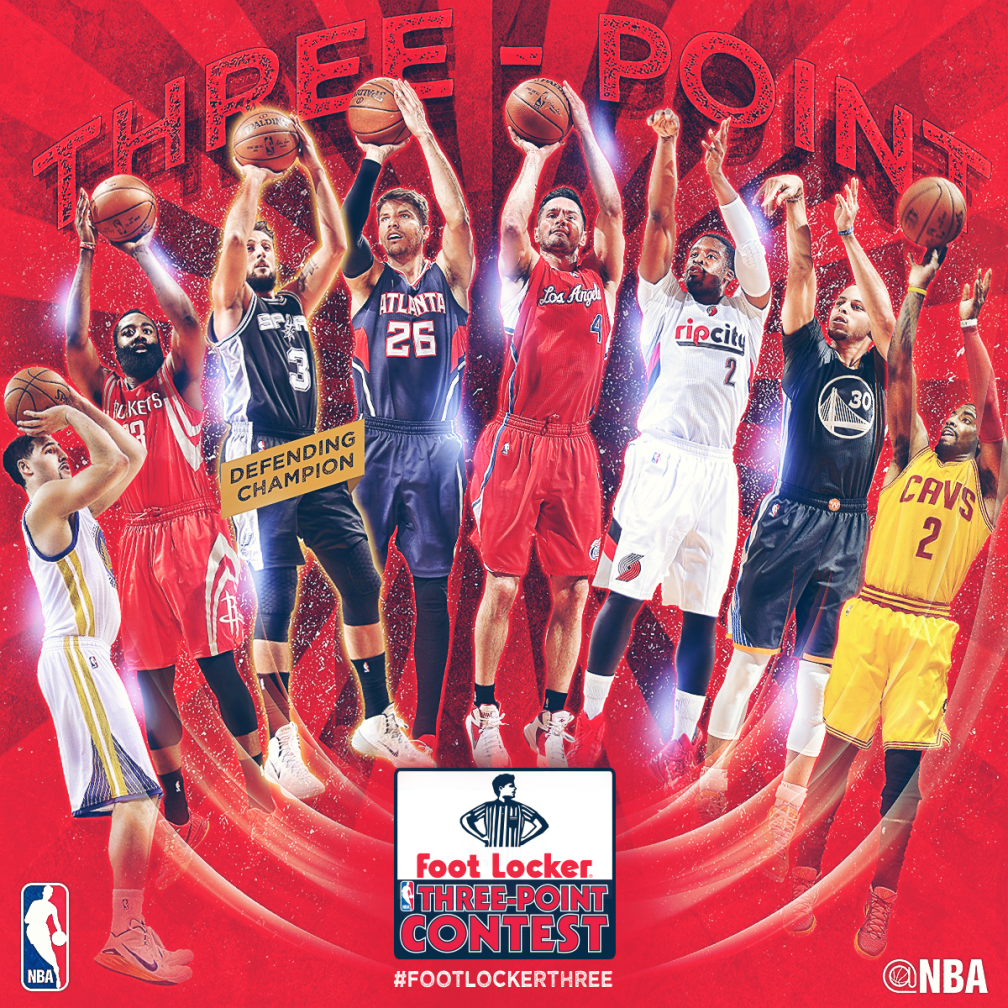 The dunk contest is a poor excuse for entertainment, so what has really become the best event of the weekend is the 3-point contest. They get every player that you shoot 3s with in 2K15 and put them against each other. No pre-madona's like Lebron saying they don't wanna do it. This is a competition for (mostly) white guys, who wanna prove that they're the best three-point shooter in the NBA. Love it.
Participants: 
• Marco Belinelli (Spurs) | Highlights
• Stephen Curry (Warriors) | Highlights
• James Harden (Rockets) | Highlights
• Kyrie Irving (Cavaliers) | Highlights
• Kyle Korver (Hawks) | Highlights
• Wesley Matthews (Blazers) | Highlights
• J.J. Redick (Clippers) | Highlights
• Klay Thompson (Warriors) | Highlights
Every player brings a different storyline. Let's go top to bottom and put odds on these boys, shall we?
Kyle Korver: 2-1
Dude is shooting 53% from beyond the arc this year. 53 PERCENT. That's gotta make him the favorite. I know Belinelli won last year, but I just think that the field is way more stacked this year. I've got Korver as the lead dog
Klay Thompson: 5/2
Who was it that dropped 37 points in a quarter 2 weeks ago. Who made 9 three-pointers in one quarter?? Oh yea, Klay Thompson. I think he's more fit to win this than curry for the sole fact that Curry is participating in the shooting stars contest. Don't underestimate the power of fatigue.
Marco Bellinelli: 3-1
Sharpshooter who won the three-point contest last year? Yea, I'll put this guy at 3-1 odds. Only question is whether or not he'll be able to handle being the defending champ instead of just a challenger. I've legit never heard Bellinelli speak so I don't think his ego will be a problem
Stephen Curry: 5-1
The other Splash brother, Curry totally flopped in last years 3 point contest. 5-1 odds might be a little high considering he was so bad in last years 3 point contest. One thing that he has going for him is that he has the quickest release in the NBA. If he gets in a rhythm, he could go 30/30.
Kyrie Irving: 8-1
2013 champ. Couldn't defend the title last year but he's back looking for blood. Irving is a dark horse candidate. In a stacked field he isn't getting the type of recognition he did last year. Kind of like Bellinelli last year, I didn't even know the dude won until they were presenting him the trophy.
James Harden: 10-1
James Harden is a pure scorer, I'm just not sure if he's a pure 3-point shooter. If this was 2K15 I'd put Harden at even money because once you give him an open shot he knocks it down. But I could see him being the guy who goes like 7/30
JJ Redick: 15-1
He's cha boy Odawg's sentimental favorite. He's at 43% from 3 point but I've seen what he can do. If you're putting your money on the whitest guy in the competition, JJ is your guy. He's the Dukie, who just hangs around the 3-point line and bangs tre-bombs. I want JJ to win sooooo sooooo bad.
Wesley Matthews: 25-1
They wanted an 8th guy I guess. Matthews isn't a pure 3-point shooter. He isn't shooting 40% from beyond the arc which I think should be a pre-requisite to be in the three-point contest. He's probably gonna end up making me look stupid by winning this thing but I just don't see it. Too many great shooters.
Odawgs pick: JJ Redick  Stephen Curry
He'll know what to expect this time around. Steph Curry will take the crown.